Description
Active Noise Cancelling Wired Over-ear Stereo Headphone w/ Microphone for All 3.5mm Device
Noise Cancelling Headphone Specifications:
1. Category: Active noise cancelling headphone
2. Output terminal: 3.5mm mini stereo plug (can choose the plate gold/plate nickel)
3. Power supply: lithium ion battery
4. Battery capacity: 280mAH
5. Working voltage: 3.7V
6. Maximum input power: 400mW
7. Maximum output power: 90mW
8. Noise level: 23db
9. Noise ratio: 50-1200hz
10. Signal to noise ratio(SNR): ≥85db
11. Working time: ≥35h
12. Noise reduction modes: the feedback of before and after combined with the active noise cancelling
13. Speaker diameter: 40mm
14. Speaker impedance: 32ohm
15. Speaker frequency response: 20 - 20KHz
16. Speaker sensitive: 115dB
17. Speaker type: Neodymium magnet high-end speaker
18. Beryllium material: pet corona material
19. Beryllium thickness: 19mil
20. Wire length: 1.2m
21. Wire material: TPE shielded wire
22. Earbuff material: Protein intradermal filling inert memory sponge.
Noise Cancelling Headphone Features:
1. It has built-in the high quality noise cancelling circuit inverting precision, with the 23db noise level, and it can effective to cut off 95% background noise.
2. It can prevent the disturbing of the AC power supply. When the phone is charged, PC will not have any current sound.
3. Background noise nearly to 0. It can solve the big problem of troubling the biggest slient background noise of the noise cancelling headphone.
4. The noise cancelling diamater is 40mm, pet corona material diaphragm, it can supply the high quality sound.
5. It used the lithium ion battery, the rated operating time over 30h, and it was recharged without to change the battery.
6. It has the design of all cover earbuff, with the imported sponge, it is very comfortable and can wear for a long time to prevent fatigue.
7. It used the design of sperating the line and the headphone. When only used for noise cancelling, can pull out the connectors to prevent the problem of the line hybrid.
8. Included two pin of transfer aircraft plug, it can be used for the media system when you are the airplane. It is the exactly airport noise cancelling headphone.
Noise Cancelling Headphone Pictures: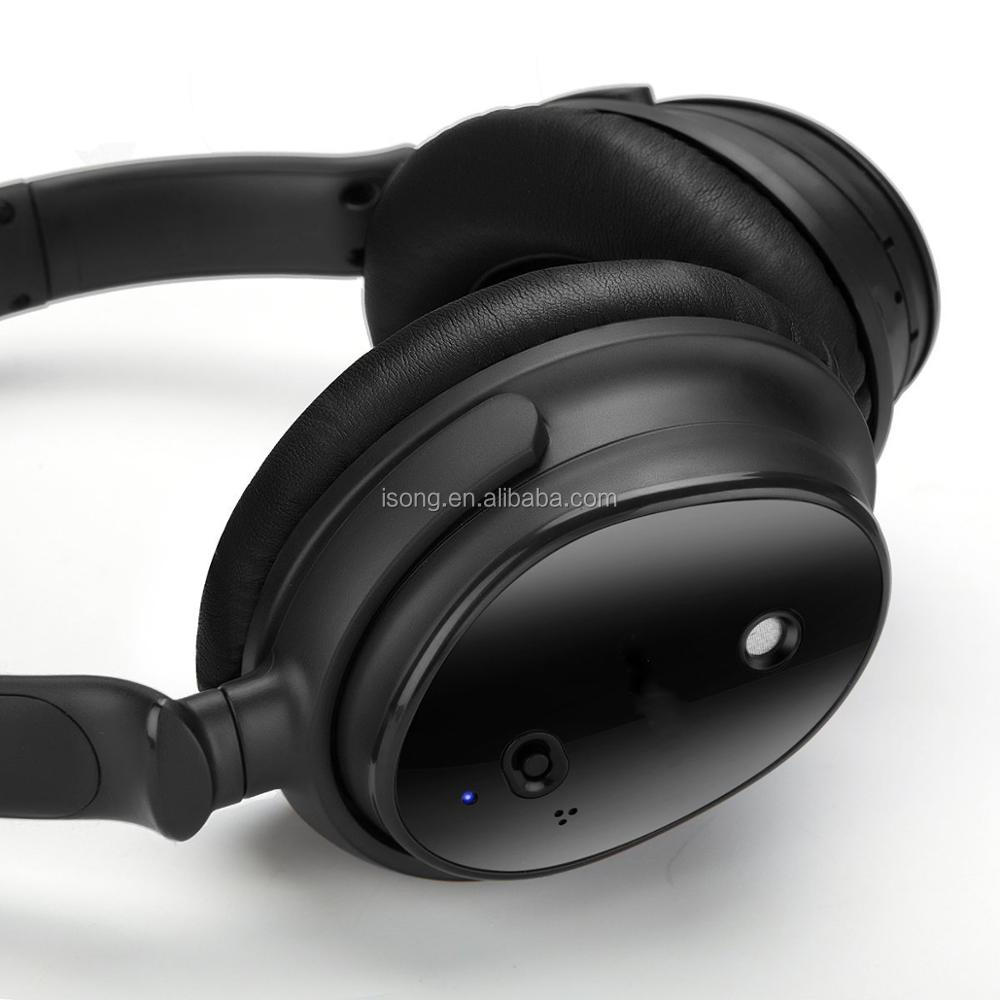 Shipping&Payment Method:
We offer all kinds of shipping:DHL/FEDEX/EMS/TNT/BY SEA/BY AIR
Our Services:
Why working with Isong
1. Professional Team: We have professional tech team to offer customer OEM service
2. Fast shipping: Normally we have stock for small quantity and have two production lines to ensure fast shipping
3 .Quality Control: We will check from material to final product to ensure good quality product.
Company Information:
Shenzhen Isong Technology Co.,Ltd is a professional manufacturer for active noise cancelling headphone, located in Shenzhen.
Focus on ANC area for more than 6 years. We produce wired, bluetooth anc headphone, hifi earphone, child anc headphone,pc headphone etc.. We have professional team to offer OEM service&two long production lines to keep fast shipping. Welcome all friends join us!!!.
View All
Close